And so it begins . . . with Palm Sunday.
A week some call Holy Week.
Seven days beginning with joy and jubilation. Shouts of hosanna!
Palm branches waving. A man riding a donkey.
Not just any man.
Jesus.
A week filled with agony and deceit.
Failure on the part of those He trusted to watch.
Agony in the Garden of Gethsemane praying,
He knew God's plan for Him.
And Jesus trusted God.
And then the long, agonizing walk
Bearing His own cross, but not His alone.
Jesus bore our crosses and our sins.
He gave His life, according to God's plan,
to give us the hope of new life ever after.

"This is how much God loved the world: He gave his Son, his one
and only Son. And this is why: so that no one need be destroyed;
by believing in him, anyone can have a whole and lasting life."
John 3:16 (MSG)

***
Continuing to count the blessings and gifts in my life:
400. Abundant spring rains.
4

01. The safety of people living near rising streams and rivers.
402. Good news from my husband's brother and his wife.
403. Prayers answered for our grandson.
404. The prayers of many for our family.
405. Joy of another new mom at my Mothers of Preschoolers table.
406. Gift of writing and music.
407. Online, cyber-connected blogging friends.
408. Marriages that last and even those that don't as there was hope there too.
409. The joy of Palm Sunday as our children came into God's house waving palm branches and leading a donkey with Jesus walking alongside.
410. The beauty of combined choirs singing praises to His name.
411. Friends from out of town.
412. The promise of Holy Week.
Won't you drop in at Ann Voskamp's site, A Holy Experience, and join a community of folks counting gifts each and every day and then sharing them on Mondays? We'd love to see you there!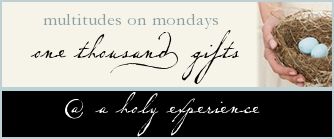 And sharing with Laura Bogess at: