Last week reminded me of the old TV show called "The Week That Was." Because that's just what kept going through our minds every step of the way. Comfort was found in the words of
Proverbs 3:5-6 (MSG):
Trust God from the bottom of your heart;

don't try to figure out everything on your own.
Listen for God's voice in everything you do, everywhere you go;

he's the one who will keep you on track.
Once again, I'm in stopping in to share the gifts I've received with Ann Voskamp and others over at
A Holy Experience.
474. Once again for safe and quick travel to and from Yakima, WA.
475. A community of friends who helped our family until we arrived.
476. God's watchfulness over our own safety as we cared for Jim, lifting him and transferring him.
477. For an up-to-date hospital and staff who cared for Jim until placement was made in a nursing facility.
478. God's hand on all of us as we shook our fists, cried out our hearts, and moved in disbelief that Jim could no longer be at home.
479. Acceptance that our decisions were the best fit for both Jim and Helen.
480. A safe and loving nursing facility, with guidelines based in Scripture.
481. Staff at that facility showing compassion and care to their patients.
482. For a nephew who could help Helen work out a financial plan for them going forward.
483. For friends who gathered round us all.
484. For the prayers of family and friends.
485. For the love of my circle of blogging friends from coast to coast who lifted hands and hearts in prayer and petition on our family's behalf.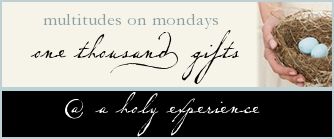 And also stopping by Laura's for
And joining with L.L. Barkat for